Brian Griffin
Seth Macfarlane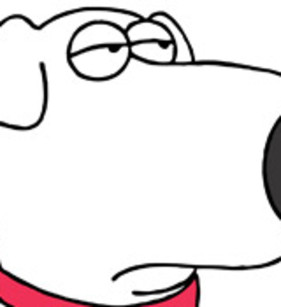 Brian Griffin is more than just the family dog. He is a gentleman and a scholar, and undeniably the most eloquent member of the Griffin household. Brian is the first person Peter will turn to in times of crisis. But the sarcastic barbs that Brian doles out can be as dry as his martinis.
Yes, Brian has been known to toss back a few. Some say it's to kill the pain that comes with the social stigma of being a dog. Other say it's to help him forget the time he met Peter, when he was a homeless stray who clean windshields for handouts. But Brian will tell you that it's good for his coat.
Drinking and throwing out witty bon mots aren't the only things Brian is good at. If you ask him to speak, don't be surprised if he responds in flawless French. He's also got an amazing voice – he can sing all four parts of a barbershop quartet simultaneously. In short, Brian might be the family dog, but don't tell him that. Did we mention that Brian also holds a third-degree belt in taekwondo? And in seven more years he'll be a black belt. That's one more year to you and me.